I am the creator of Digitalfire Insight, the Digitalfire Reference Database and Insight-live.com. ... more I have made hundreds of posts like these on my Insight-live Facebook and Plainsman Clays Facebook pages. My posts are like no others, they help you understand your glazes and clay bodies, take control. A master timeline can be seen at Digitalfire.com or visit and like my pages to get a notification each time I post.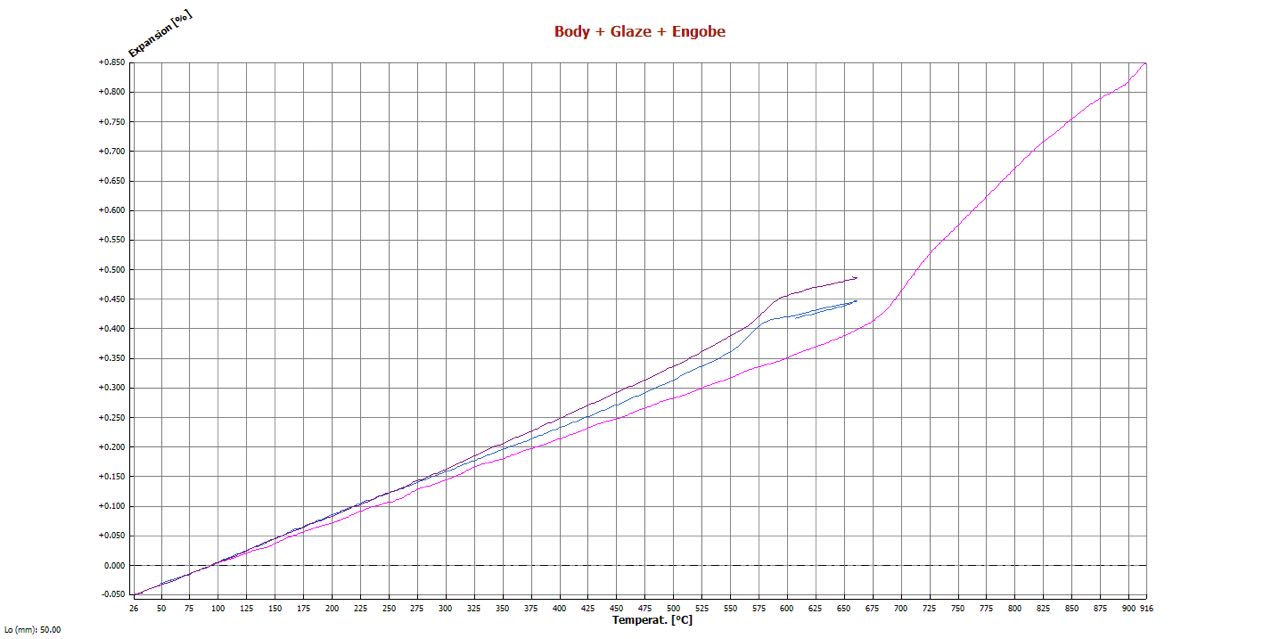 Thermal expansions for body, engobe and glaze in ceramic tile
The upper line is the body. The center line is the engobe. The lower line is the glaze. The ceramic tile industry is very conscious, not only of glaze-fit but also engobe-fit. Engobes (slips) are employed to cover brown or red burning bodies so they glaze like a porcelain. Typically technicians tune
... more
Context: Engobe, COE, Co-efficient of Thermal Expansion
Wednesday 18th January 2017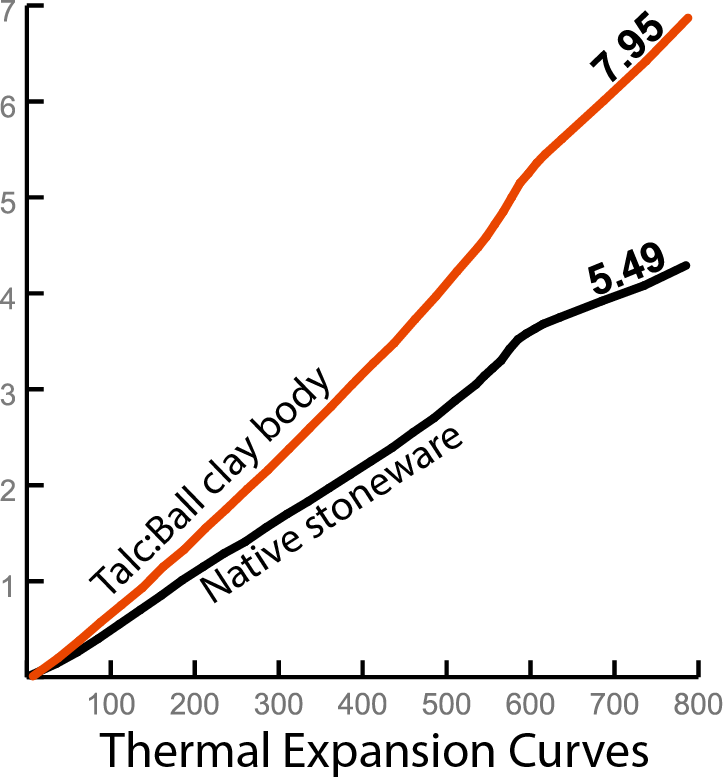 The high thermal expansion of a low-fire talc body
Talc is employed in low fire bodies to raise their thermal expansion (to put the squeeze on glazes to prevent crazing). These dilatometer curves make it very clear just how effective that strategy is! The talc body was fired at cone 04, the stoneware at cone 6. The former is porous and completely non-vitreous, the latter is semi vitreous.
Context: Talc, COE, Co-efficient of Thermal Expansion
Wednesday 18th January 2017

The rutile mechanism in glazes
2,3,4,5% rutile added to a 80:20 mix of Alberta Slip:Frit 3134 at cone 6. This variegating mechanism of rutile is well-known among potters. Rutile can be added to many glazes to variegate existing color and opacification.
Context: Alberta Slip, Rutile, GA6-C - Alberta Slip Rutile Blue Cone 6, Alberta Slip, 20 Years of Substitution for Albany Slip, Identifying Glaze Mechanisms, Rutile Glaze, Glaze Recipes
Sunday 15th January 2017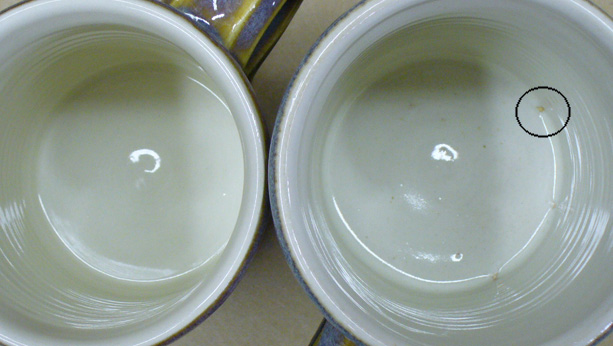 Two glazes. One crawls, the other does not. Why?
The glaze on the right is crawling at the inside corner. Multiple factors contribute. The angle between the wall and base is sharper. A thicker layer of glaze has collected there (the thicker it is the more power it has to impose a crack as it shrinks during drying). It also shrinks more during
... more
Context: Crawling, Glaze Layering, Calcine, Calcination, Suspension
Tuesday 3rd January 2017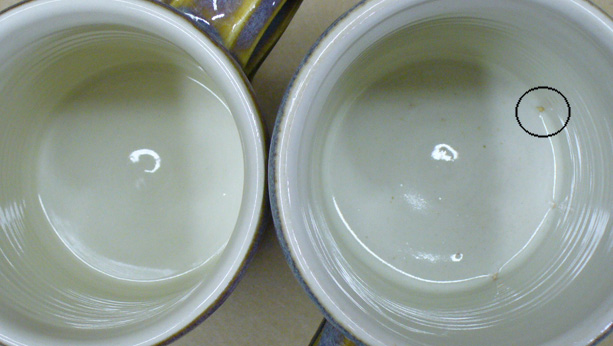 I have always done it this way. Why is it not working now?
Are you really sure the problem is with the materials? I had been using an 85% Ravenscrag, 15% frit glaze for many years with no crawling problems. But then it started crawling. I tried mixes with new materials and the old ones. Still crawled. The problem? What was I thinking? An 85% clay glaze is
... more
Context: Crawling
Tuesday 3rd January 2017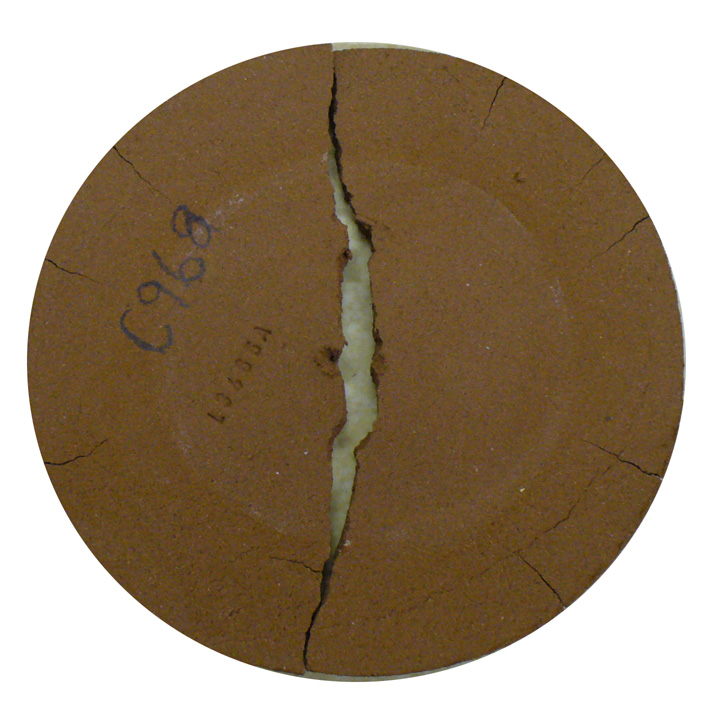 A DFAC drying test disk of a terra cotta pottery clay from St. Ignacio, Sinaloa, Mexico
This clay is used by traditional potters in the Mazatlan, Sinaloa, Mexico area. This DFAC test shows a very wide main crack and number of edge cracks. These indicate very high shrinkage and plasticity. Although the clay has some coarser grains that help channel water out, this is a very poor showing
... more
Context: DFAC Drying Factor
Thursday 22nd December 2016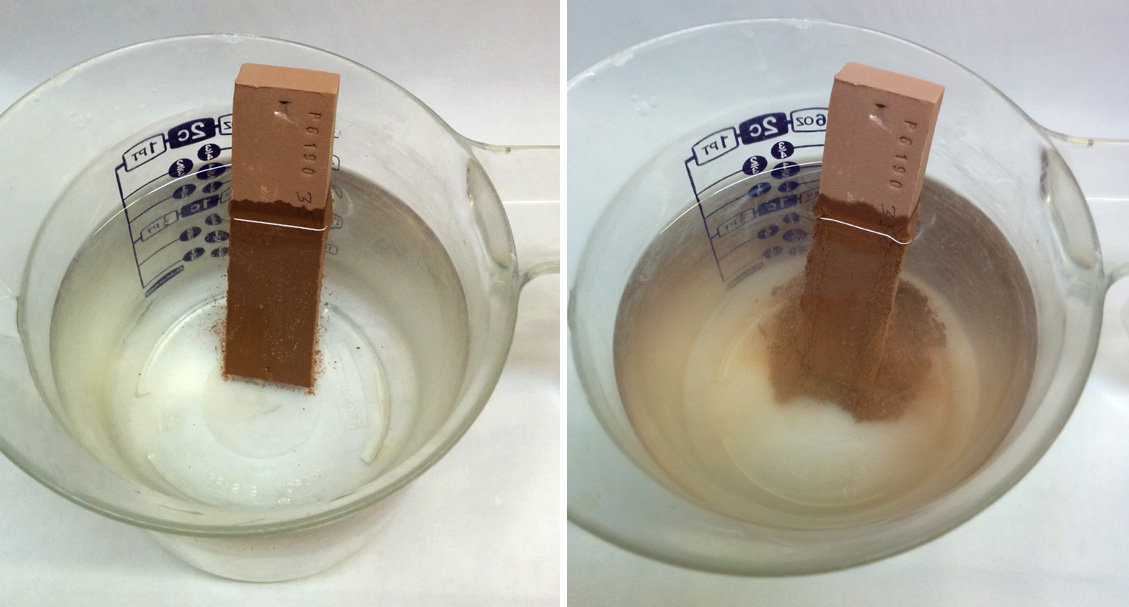 Slaking. What is that?
A slaking clay (a typlical potters clay). On the left the clay bar has been in the water for around 10 seconds. On the right, after a couple minutes, the rate of slaking has increased dramatically. Within about 5 minutes this bar will disappear into a pile on the bottom. Slaking happens most quickly
... more
Context: Slake, Slaking
Wednesday 21st December 2016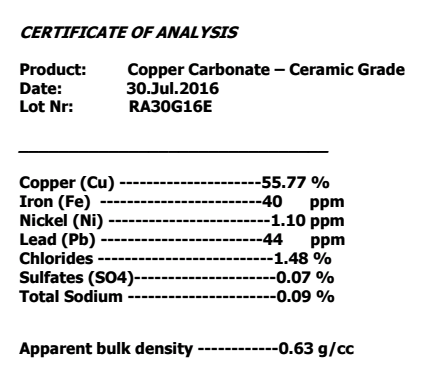 Example of a data sheet for Copper Carbonate
Notice it does not quote the amount of CuCO3, just Cu metal. It also does not quote LOI percentage (weight loss on ignition, it will be more than 25%). Theoretical copper carbonate is 71.94% CuO (sourced by a mix of copper carbonate and carbonate hydroxide). CuO is 79.9% copper and 20.1% oxygen.
... more
Context: Copper Carbonate Basic
Saturday 10th December 2016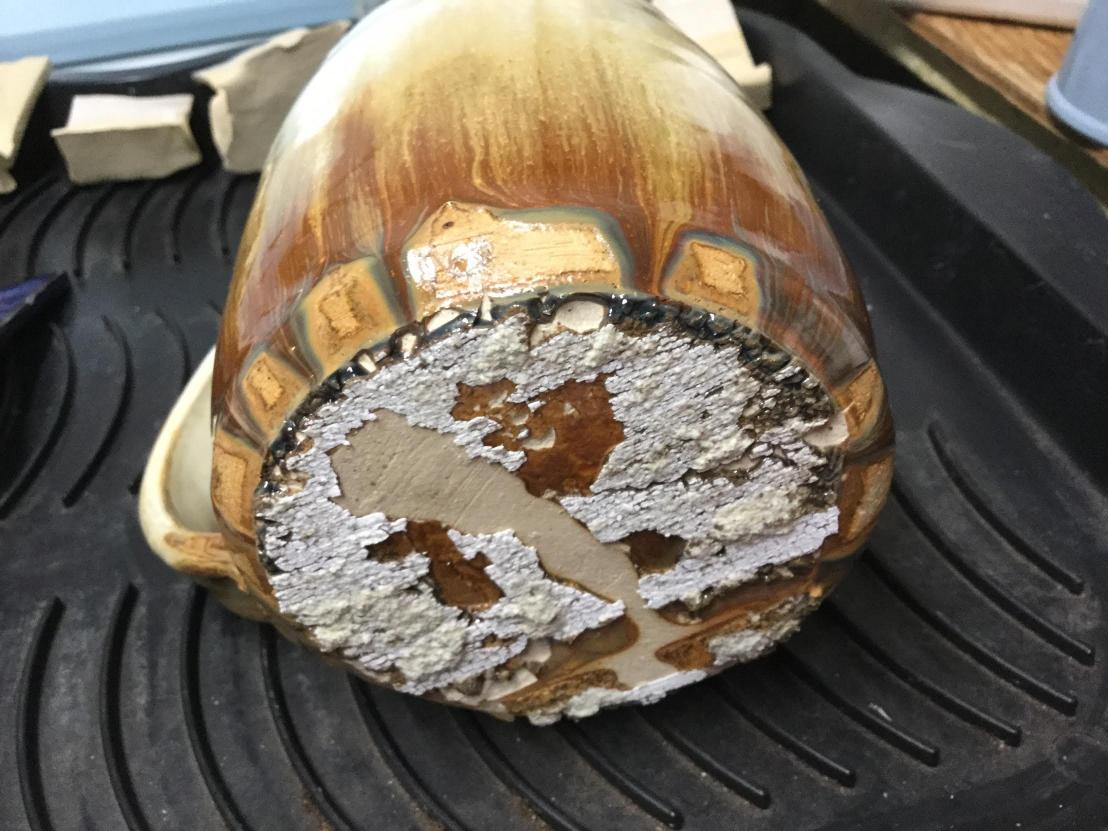 An extreme extremely runny glaze at cone 6. Is there a cost?
This recipe melts to such a fluid glass because of its high sodium and lithium content coupled with low silica levels. Reactive glazes like this produce interesting visuals but these come at a cost that is more than just the difficulty in firing. Recipes like this often calculate to an extremely
... more
Context: Fluidity, Melt Fluidity, Leaching, glaze solubility, Crazing
Sunday 4th December 2016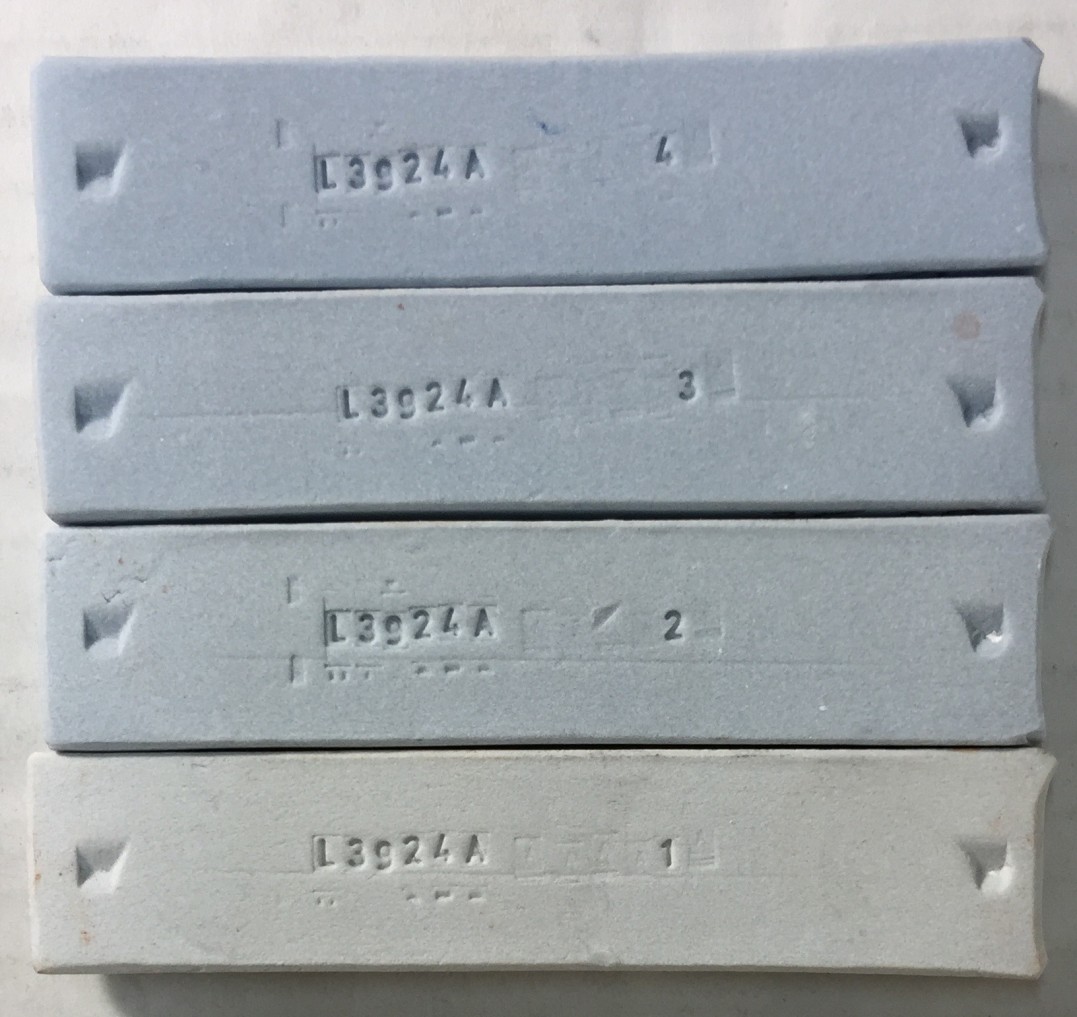 The blue color in this porcelain develops more as maturity increases
These fritted porcelain bars are fired at cone 06, 04, 03 and 02 oxidation (bottom to top). The body contains 0.2% blue stain. Notice that almost no color develops at the lowest temperature. Glass development is needed.
Context: L3924C - Zero3 Porcelain Experimental, Porcelain
Friday 2nd December 2016
Login to your online account
Chemistry plus physics. The on-line successor to desktop Insight. Get an account for as little as $15. It does so much more.
Still available for Mac, PC, Linux
Interactive glaze chemistry calculations. Download it from the Files panel in your account at Insight-live.com (no extra charge).
---
How to reach us
From within your account at Insight-Live.com or
What people have said about digitalfire
• I love your website so much! I am a potter just starting to delve into the world of glazes, and I cannot tell you how incredibly useful this website is. I have already spent hours reading about chemicals. Thank you so much for this amazing resource!
• 'we have been using the arabia blue and white variation of the 5X20 cone 6 glaze, and have had a great response from our customers. Thanks for your efforts - you have made a believer out of me!"
• I am very thankful that you are so good at what you do! Thank you for all your hard work!
• What I am looking is the operation of roller kiln and what changes body undergo at what temp & why in kiln. Also general defects in vitrified body after kiln & likely reason for that. I am learning a lot about clay body formation from your site. It's really a gift for a people like me.
• When my group of potters are pressed to improve our glazes they say if the old way is not broken yet why don't you buy yourself some kind of a kit to play with new glazes and then we can make it for everyone. You got to be kidding I say to myself. Anyway, your website will help me help the group out of some old and boring glazes if I can see forward enough. Thanks for all this important info, I can't believe this website is here!
• I love the site. I use it all the time at the Clay Business, and I feel like I have not even touched the surface.
• Many Solution Regarding Ceramic Problems Got From Your Website.Thank You Very Much.
• Thanks again, and again, as always, for your ever-so-helpful web pages.
• I have been in the pottery business for 52 years, Pemco use to be 10 miles from us. Your advise on solving our glaze problem worked perfectly and you explained it so well. I have had this problem for 7 years, re-firing lots of ware. Pemco guys and Pfaltzgraff Pottery glaze dept. told me different recipes but it never solved the problem. None of them talked about firing cycles. Tony, how did you get so smart? God has Blessed you.
• I found a link to your great site whilst looking at oxides/effects ... Generally, the website is brilliant and I've already learned a lot. I need to try it out properly before I go ahead and buy the full thing. Looks very tempting, as all the answers are in one place. The testimonials look promising too.
To see more (at random) refresh this page