Alberta Slip Cone 6 Base Glaze
| | |
| --- | --- |
| Code | GA6-A |
| Modification Date | 2012-11-23 15:38:56 |
| Member of Group | AS6 |
Recipe
Material
Amount
Units
+/-
*Stat
Alberta Slip Calcined
40.00
g
Alberta Slip
40.00
g
Ferro Frit 3134
20.00
g
100.00
Firing Schedule
| | | | |
| --- | --- | --- | --- |
| 55 | 104 | 120 | 1 |
| 167 | 482 | 0 | 2 |
| 83 | 593 | 0 | 3 |
| 167 | 945 | 0 | 4 |
| 60 | 1185 | 20 | 5 |
| 278 | 1035 | 0 | 6 |
| 83 | 816 | 0 | 7 |
Notes
Covers very well to produce a transparent amber glass. Ball mill to remove iron specks if needed. This is an excellent base glaze for many dark colors. It is also an excellent liner glaze for dark burning clays, it looks better than a transparent.

If crazing occurs (you need to look closely for it) switch to frit 3249 low expansion frit.

Out Bound Links

(URLs) AlbertaSlip.com


http://albertaslip.com

(Typecodes) 3: ASR - Alberta Slip Glaze Recipes
(Schedules) Plainsman Cone 6 Electric Standard - UnDescribed
(Recipes) GA6-C - Alberta Slip Rutile Blue Cone 6


2003-12-12 - This glaze is remarkable in that is creates a brig...

(Recipes) GA6-G - Alberta Slip Lithium Brown Cone 6


2003-12-12 - One of the most popular Albany Slip glazes was 11%...

(Recipes) GA6-H - Alberta Slip Cone 6 Black


2003-12-12 - A glossy black. The small amount of frit needed is...
In Bound Links

Pictures
Alberta Slip fired at cone 6 using 20% frit 3134 (left) and 20% frit 3249 (right).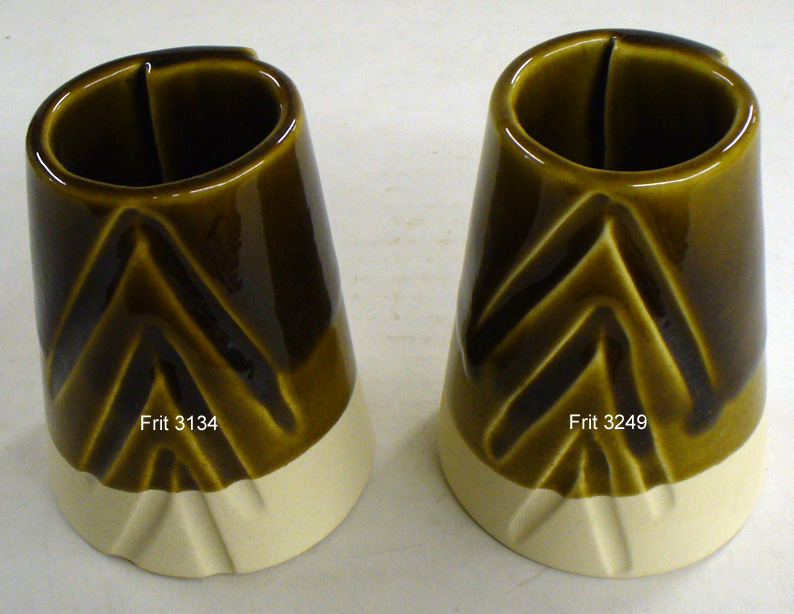 Click for 614% larger

Thin titanium band sprayed over cone 6 glazes demonstrates crystallization. The first is on GA6-A, the rest on GA6-C (Alberta slip glazes). The last has been applied too thickly.

Click for 300% larger

Defect free fired surface of alberta slip plus 20% frit 3134 at cone 6 oxidation on a dark and light burning clay body.
Click for 525% larger

The GA6-A Alberta Slip:Frit 3134 (80%:20%) glaze is excellent as a liner for dark burning bodies, it looks much better than a transparent and brings out the natural color of the clay.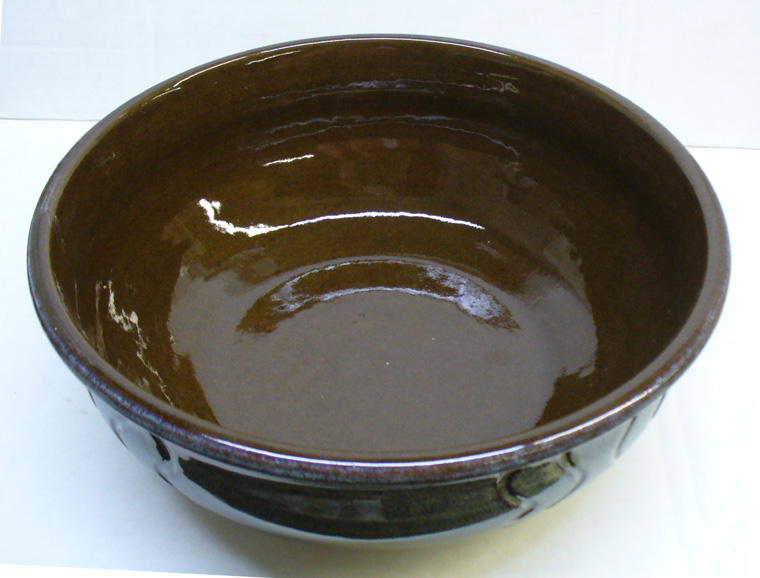 Click for 578% larger

GA6-A Alberta Slip base glaze (80:20 Alberta Slip:Frit 3134) on porcelain produces an attractive celadon-like effect in middle temperature oxidation.
Click for 717% larger

GA6-A Alberta Slip base on the inside of a high iron body (looks much better than a transparent glaze)
Click for 585% larger

GA6-A Alberta Slip base inside two red clays (mug on left has 0.5% added tin oxide which improves homogeneity of color).
Click for 621% larger


The future of ceramic recipe, material and physical testing record keeping is here. Just pennies a day.

Watch the video or sign-up at
http://insight-live.com
.
Maintain your recipes and materials on-line
Login to a private account or work with others in a group account (e.g. university).
Nothing to install (access it using your web browser). It is always the latest version.
Import existing material, recipe data.
As many side-by-side recipes and/or materials as you want (chemistry is shown for all).
Many ways to search and classify glaze and body recipes.
Glaze and body recipes are robust, with units-of-measure, pictures with individual titles and descriptions, material links.
Add variations to a recipe; each with its own pictures, descriptions and name/code-number extensions.
Recipes can link to materials, typecodes, projects and firing schedules (all managed in their own areas).
Standard reports and mix ticket reports with last-minute-totalling; variations report as if they are a complete recipe.
Video tutorials, help system, contact form on every page, dedicated messaging and support ticket systems.
It is an industrial-strength database system (unlimited capacity, fast, reliable, scalable).
Imports many file formats
Glaze recipe formats supported: HyperGlaze, GlazeGhem, GlazeMaster, Matrix, INSIGHT XML recipes (single and multiple), INSIGHT SQLite DB files.
Assign a batch number to recipe imports (later search by batch).
Assign multiple typecodes to imported glaze and body batches (to classify) (search on these later).
Prepend character sequences to glaze recipe names during import.
Import the pictures and pair them to their corresponding recipe records automatically.
One click to automatically export the database to an SQLite DB database file and download it (for use with desktop INSIGHT or just as a backup).
Export and import individual glaze recipes as text or XML.
Import materials data in various formats or just use the thousands of built-in reference materials.
Perfect for Education
Ceramic study programs can now accumulate material, recipe and testing data year-after-year, students can login and together build a valuable ceramic glaze and body knowledge resource.
Students already have internet connected devices, computers are not even needed in the class.
The Reference Manager gives you quick access to the Digitalfire Ceramic Reference Database.
Learn more
..